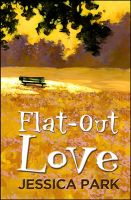 Flat-Out Love
by Jessica Park follows Julie as she begins a new life away from home at college. When she arrives at what should be her new apartment she realizes that the apartment she payed for was non-existent and she had been scared. She contacts her mother because she has no place to go. Her mother remembers that her old college roommate lives nearby. The roommate Erin sends her son, Matt to pick her up. What starts out as a one night stay in Erin's house turns into a years stay.
Julie takes it upon her self to try to change the life of Erin's young daughter Celeste when she discovers that she carries around a life size cut out of her older brother Finn. She contacts Fin on facebook and soon begins to fall for him. The whole time she remains oblivious to the fact that someone else has fallen for her.
The mystery of why Finn will not return home kept me guessing and wanting more. I only had a few theories as to why and it turns out my first theory was actually correct. I do not want to ruin the ending for you so I will not say what that outcome was but lets just say the story is G-O-O-D! Everyone should read this story and when you do come back and let us know what you thought about
Flat-Out Love!